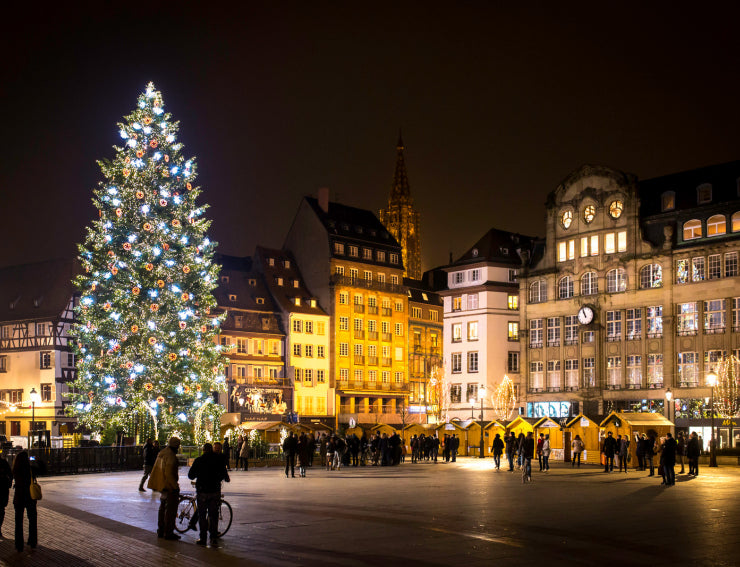 If you've ever visited Alsace before, you'll know that it always has a romantic charm to it. The German-style houses, idyllic villages as well as a winery and a bakery on every corner. When speaking of Alsace during Christmas time, this charm is even more prevalent than usual. The whole region is filled with love, decorations, delicious food aromas and wine all over. And don't even get me started on the abundance of Christmas markets. Whenever you're in Alsace, it is mandatory to go to the most idyllic Christmas shop in Riquewihr: the Féerie de Noël.
Although I am certain that you know Alsace, I will offer you a prompt introduction to the region through my own eyes. This northeastern slice of France is home to some of the finest Rieslings of the world; its 51 grands crus offering exceptional terroir-driven wines. As famous as it is for its white wines made from eight permitted grape varieties, red Pinot Noir is gaining traction too. And with Crémant d'Alsace, it is also the second largest producer of sparkling wines of France.
As the result of switching ownership many times between France and Germany, Alsace currently has an extra day off to celebrate the day of Saint-Etienne on the 26th December. Alsace also claims ownership of the city where the Christmas tree originated. It dates back to 1521 when, in Sélestat, the right to go and cut trees in the forest on Christmas Eve was first set down in writing. Over the centuries, this edict was incorporated into Christmas lore as we now know it as the annual global tradition of setting up a Christmas tree. Each year, in the church at Sélestat, it is possible to read the original written documents that first set up this fine tradition. Fun fact: Strasbourg's Christmas tree is so large that it is considered one of the tallest decorated natural trees in Europe.
The Alsatians are proud of many other Christmas traditions, many of which include delicious sweet baked goods.
Beerawecke(a)
A traditional cake for the joyous season, Beerawecke is made with dried fruit, candied fruit, plums, and citrus zest macerated in plum eau-de-vie or Mirabelle plum liqueur. In a variation from the traditional recipe, some people use kirsch for the maceration of the fruit, which usually takes about 24–48 hours. Interestingly, this cake is baked at a relatively low temperature, 150˚C. After it has cooled, you can slice the cake very thinly and eat it. It can be stored for up to 10 days, keeping its delicious character alive.
Vin Chaud
Mulled wine, as people call it in English speaking countries, or Glühwein in Germanic countries. Everybody has their own recipe, and so do the Alsatians. With the popularity of Alsace's red variety Pinot Noir, it is quite important to know that Pinot Noir d'Alsace will also serve well as a base for a heart-warming mulled wine. Typically, in Alsace you will find your 'vin chaud' to be made with cinnamon, cloves, black peppercorns, star anise, orange zest and lemon zest. Some people might want to spice it up even more with juniper berries, bay leaves, cardamom pods and even some chocolate chunks. I personally like to keep it elegant with the 'traditional' ingredients.
Foie Gras
Somehow the very name conjures up the texture and intense flavour of this delicacy. Foie gras makes a natural start to the Christmas dinner when paired with toasted bread or brioche, a sweet element and something acidic. Typically, in Alsace it will also be partnered with a wine of equally pronounced intensity, Gewurztraminer, preferably from a lieu-dit (named site) or grand cru. Another great wine that will pair magnificently with this decadent treat comes from the Grand Cru Kaefferkopf. On this hill blending is allowed, specifically of the Gewurztraminer and Riesling grapes. These two varieties complement each perfectly: Gewurztraminer with its low acidity, Riesling with plenty, and while Riesling can be relatively light in body, Gewurztraminer has an abundance of mouthfeel and richness.
Bredele
Winemakers in Alsace traditionally bake delicious sweet treats to serve with their own Crémant d'Alsace, intense Gewurztraminer, crispy Riesling, earthy Pinot Noir and luxurious Pinot Gris. In fact, wherever you walk through the region at Christmas time, a strong, indulgent smell of spices, honey and citrus fruit can be found in abundance. Adding more festive magic, Alsatian Bredele biscuits are also something that can also be found plentifully throughout Bas- and Haut-Rhin. These are shortbread-like cookies, often decorated with frosting and always baked in fun shapes and sizes. They are a little more buttery and luxurious than your average shortbread cookie, tasting like a crunchy version of Christmas. The name Bredele literally translates from Alsatian to 'Christmas cookie'.  
While I can highly recommend going to Alsace during Christmas, with these treats you can also bring Alsace and its Christmas magic into your home.
Benjamin Roelfs (26), is a wine professional from The Netherlands with, he admits, 'a huge passion for the wines of Alsace'. Writing mostly online on his Instagram account, he regularly celebrates the wines of this region. He is a trained sommelier and he keeps up his study of wine every day.