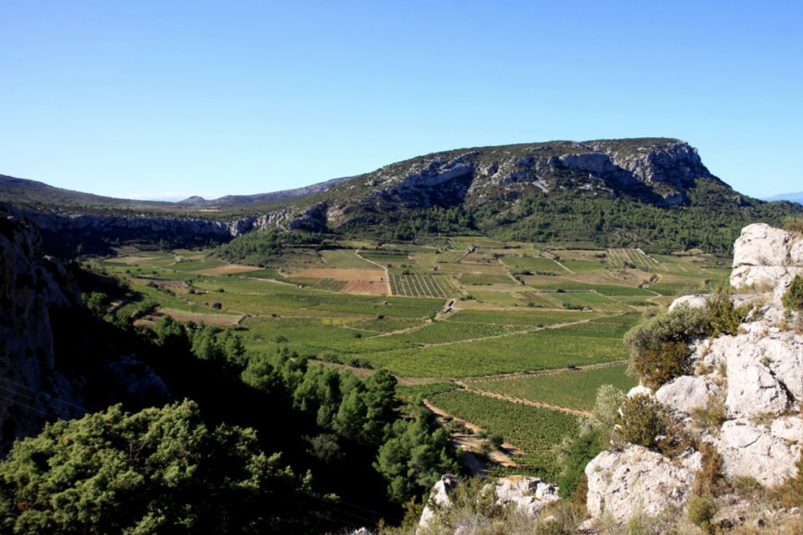 Roussillon is the home of a vinous delight that is sadly underrated and under-appreciated. I am talking about vin doux, or to give it its generic and rather cumbersome name, vins doux naturels. Naturel in this context has nothing to do with natural winemaking but refers to the natural sweetness in the wine, the sugar that remains after the fermentation has been stopped by the addition of alcohol. This usually happens at around 100g/l residual sugar, so that the added alcohol accounts for around 10% of the volume, making a final alcohol level of around 17–18%. In contrast, table wines in Roussillon are referred to as vin sec, so for example, the table wines of the village of Maury are termed Maury Sec, and the vin doux simply Maury.
The best of these wines are truly original vinous treasures. Essentially there are two styles, the young fresh wines, often made from a single vintage, such as Maury Grenat or Banyuls Rimage, made principally from Grenache Noir, kept in vat, or maybe barrel, for some months. They are the essence of ripe red fruit – think Ruby Port, with fresh fruit. But truly more exciting and original are the oxidative styles, the wines that have been left to mature in barrels that are not topped up, and that have been kept in an attic, or possibly outside, exposed to the elements and extremes of temperature. They may also be kept in glass bonbonnes, usually outside for several months, as at Mas Amiel or La Tour Vieille, and the result is a concentration of flavour, as the angels take their share.
The appellations for vin doux were recognized much earlier than for vin sec in Roussillon, so the key appellations are Banyuls and Maury, from vineyards around these two communes, and Rivesaltes which covers an extensive area over the rest of the département. The other important categories are Ambré, made from white grapes – Macabeo, Grenache Gris and Blanc – and Tuilé, from red grapes, particularly Grenache Noir, and describing the 'baked clay' or brick colour that these wines turn with age. Hors d'Age implies longer ageing: these wines may have a vintage, or may have been aged in a solera. Whichever, they are fabulous, with rich nuances of flavour, and usually offering incredible value – undoubtedly the affordable solution to the dilemma of a birth year bottle.
And yet Hors d'Age wines are so often overlooked. Part of the problem is that people do not know when to drink them. Are they an aperitif or a dessert wine? Sweet wines are no longer fashionable, so nowadays just about every sweet appellation also produces a dry alternative – even Sauternes and Château d'Yquem. Yet the Hors d'Age wines become drier as they age.
Another problem is that the producers themselves do not really appreciate them, nor are they particularly proud of them. They certainly do not drink them very often. There is also quite a wide price span between the cheaper, more commercial wines and the mature treasures. Pierre Boudau, a talented Rivesaltes producer, finds that his cheaper wines disappear into the mass market, so the better wines that remain must be valued and priced correctly. 'There is no reason why there is no market for vin doux. You must give it back, what I call its lettres de noblesse, its credentials. It must not be too cheap, so people must realize that they are drinking a treasure.'
Top Vin Doux producers, in no particular order:
Rivesaltes: Domaine de Rancy, Domaine Boudau, Domaine des Chênes, Domaine Vaquer, Domaine de Centernach, Domaine Cazes
Maury: Mas Amiel, Mas Karolina, Domaine des Soulanes, Domaine Pouderoux
Banyuls: Coume del Mas, Domaine Pietri-Géraud, Cave de l'Etoile, Domaine La Tour Vieille, Domaine Vial-Magnères
Read more about vins doux naturels in Hugh Johnson's memoir, The Life and Wines of Hugh Johnson.
AUTHOR
Rosemary George was one of the first women to become a Master of Wine, back in 1979. She is the author of 13 books, including The Wines of the Languedoc andThe Wines of Chablis and the Grand Auxerrois. Her other specialist wine regions are Tuscany and New Zealand.