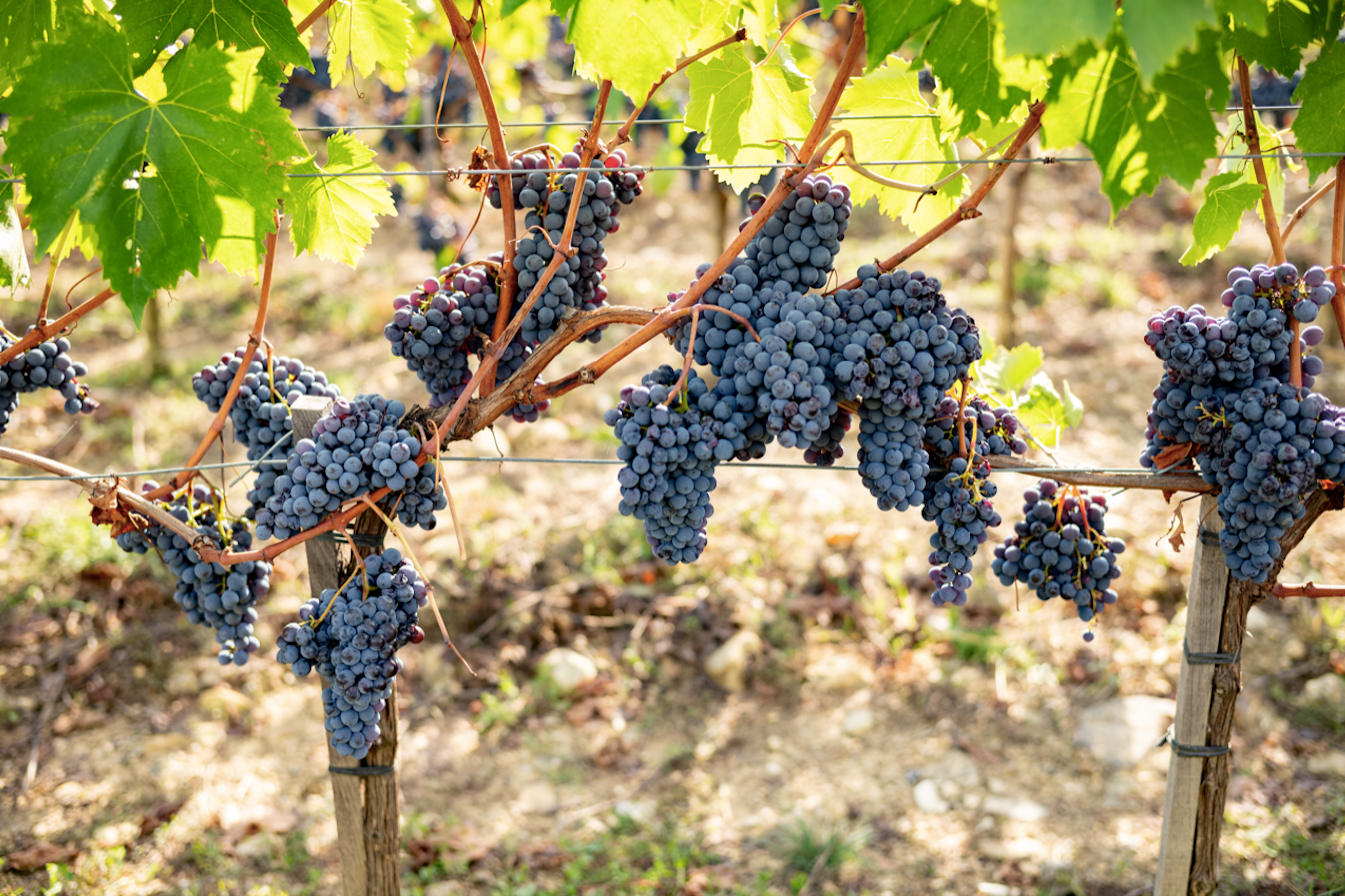 'Very happy and rather relieved' are the words many Montalcino growers might use to describe their feelings following the 2019 harvest. It's one to file under the 'abundant but turbulent' category.
Warm, wet spring weather at the end of March provoked an early bud-burst for the Sangiovese vines. But according to biodynamic wine grower Jan Erbach of Pian dell'Orino, flowering in May was 'a staggered affair'. Two weeks of clear but cool weather due to north winds slowed things right down. The wind reduced disease pressure from peronospera (Downy mildew) but slowed vegetative growth. 'By late spring, the vines were around 15–20 days behind the norm,' said Erbach.
June and July brought some really hot spells, allowing the vines to catch up a bit. Much-needed heavy rain at the end of July was crucial. It gave the vine shoots and leaves enough water before the onset of drought conditions toppled noticeable vine stress into the near-critical category.
Growth then slowed in early August with further Saharan temperatures reaching 37–38°C.
The intense heat reduced the threat of disease but may have caused heat stress problems for those growers on arid sites who had done a thorough de-leafing around the bunches to expose them to ripening sunshine, or who had already over-enthusiastically crop-thinned so the vine wasn't overburdened with fruit. (Heat stress causes high grape sugars but unripe green seeds, so you get a sweet and sour taste to the wine.)
At the organic Argiano estate, vineyard manager Franceso Monari successfully applied kaolin, a reflective white powder that, when sprayed, acts as a sun block to the leaves. 'And we didn't deleaf,' he says.
Veraison (the point at which the grapes begin to change colour) was on time in mid-August and, crucially, took place in good weather. Vineyard plots could now ripen steadily, the sunshine permitting an ideal slow maturation of the tannins. 'It also meant it was then possible to pick each plot at perfect flavour ripeness,' says Jan Erbach, who was pleased to harvest his three, fairly small, non-contiguous vineyard sites over nearly one month.
September brought a mix of both dry, sunny weather and more humid periods. There were two downpours, the second at the end of the month. The risk was that (as in 2005), with thinner skins than normal, the grapes would become prone to splitting as they swelled with the rain.
Crucially, both rain events were followed by periods of very dry heat – although each brought some isolated hail. Some organic growers sprayed propolis, which is derived from beeswax and acts as an anti-septic against any hail damage, and zeolite, a rock powder which helps the Sangiovese bunches dry quickly after showers.
These sprays limited potential disease issues caused by thinner, more rot-prone grape-skins, but may have exacerbated sunburn situations for those who had over-enthusiastically de-leafed around the bunches, or crop-thinned. It may also explain why some growers reported high levels of tannin and colour, while others found only just enough colour and tannin to extract.
Cool nights at harvest time allowed flexible picking as ripening was slow and steady. Where vine health was especially good, grapes could be picked at the optimum moment, as sugar levels were no longer rising. This meant the grapes had juice with potentially excellent acid balance, which is an indicator of wines with great ageing potential.
Yields are potentially high at around 48–52 hectolitres per hectare.
So, while it was a bit of a rollercoaster ride, the 2019 Montalcino vintage eventually brought both quantity and quality. As well as being happy and relieved, Montalcino's growers are also rather replete.
AUTHOR
Monty Waldin is an author and broadcaster. He has written books on both organic and biodynamic wine and biodynamic gardening. He currently hosts the English language Italian Wine Podcast.
FACT FILE
Tuscany
Geography: Located in central Italy. The climate varies from Mediterranean on the coast to continental inland influenced by the Apennines. Wide variation in day and night temperatures.
Grape varieties: Sangiovese, Merlot, Cabernet Sauvignon, Trebbiano Toscano, Vernaccia
Significant DOCGs: Chianti, Chianti Classico, Brunello di Montalcino, Carmignano, Vino Nobile di Montepulciano, Vernaccia di San Gimignano
Significant DOCs: Bolgheri, Montecucco, Rosso di Montalcino