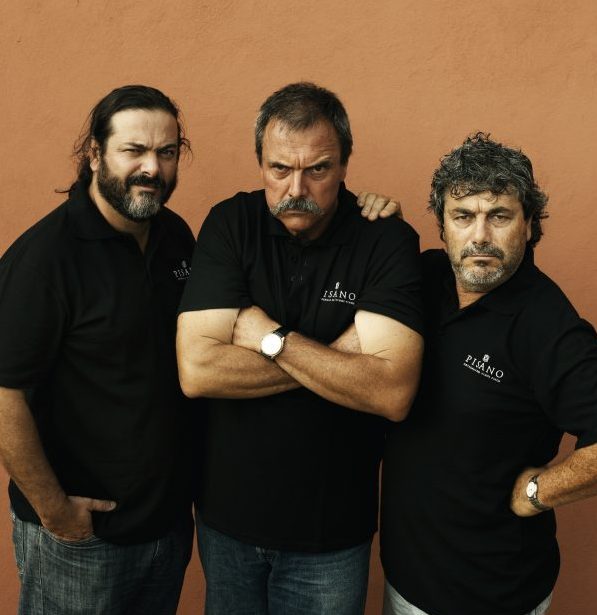 Compared to the neighbours who surround it Uruguay is tiny, almost pocket-sized, with just over three million inhabitants, half of whom live in the capital city Montevideo. Yet it has the widest river – Rio de la Plata, 45 kilometres bank to bank at its broadest – in the world, and at 2,500 million years, the oldest bedrock vineyard soil on the planet. It also produces top class footballers that they can't afford to keep and makes excellent, European-style wines that are more appreciated abroad than at home.
The landscape is as attractively charming as the people and there is an easy-going feel to the place due to the hard work in keeping it that way. Just six full days on a first visit that was engendered almost 20 years ago when the London Embassy presented a tasting with just a handful of estates, left me with a lasting impression that Uruguay is in the top league of the 'Three Ps', where the Place and the People blend together in the Product.
Vineyards can be found all over this little country, which straddles the 30–35 South Parallels, the same latitude as the best vineyards from Argentina, Chile, South Africa, Australia and New Zealand, but Uruguay is the only wine producer in South America with an Atlantic climate bringing the cool nights that lead to balance and elegance. The main grape varieties are international: Albariño, Chardonnay, Sauvignon Blanc and Viognier for the whites, Cabernets Franc and Sauvignon, Merlot, Pinot Noir, Syrah and especially Tannat for the reds.
Tannat, the major grape of Madiran and Irouléguy in southwest France, was introduced to Uruguay in 1870 by Basque immigrants and is the country's flagship grape, as Malbec is to Argentina and Sauvignon Blanc to New Zealand. It is also, in my view, more expressive than its French ancestor and more varied in style. Indeed, at the first presentation in London of the wines from Bodega Garzón five years ago, I complimented their internationally-known consultant-oenologist, Alberto Antonini, for being the 'first man to tame Tannat'.
My wife and I visited four wineries on our short trip, the first being Narbona in the Carmelo district to the north. The wines are quite full-bodied: a deep-coloured 2018 Tannat Rosé going down well at lunch, a southern-French style 2019 Sauvignon Blanc being a good aperitif that evening, the 2018 60%-40% Tannat-Cabernet Franc blend showing promise for the future, and their top wine, the 2014 100% Tannat Luz de Luna, being most impressive.
Fabiana Bracco, Narbona's export director, then drove us south to Montevideo where we were to spend three nights at the Alma Historica Boutique Hotel, a superb conversion by Italian owner Dario Distefano of a 1900 private mansion in the old town. The first evening Fabiana took us to her own vineyard in Canelones, Uruguay's largest wine region, where vineyards alternate with farmland and beaches. She had recently inherited this from her father, whose ashes were scattered along his favourite row, No 13, of Cabernet Franc. Here, quality and complexity were evident under her Ombu ('wines with no preconcepts') brand. Starting with a 2019 Moscatel, as fully-flavoured and dry as a Fino Sherry, then a floral 2019 Sauvignon Blanc, an un-oaked 2018 Tannat that could be compared to a Chianti Classico, a brilliant 2018 Cabernet Franc, a spicy 2017 Petit Verdot, we ended with the 2016 Gran Ombu Cabernet Franc from old vines which could see out this decade. Both Narbona and BraccoBosca wines are distributed in the UK by Hispamerchants.
The next day was spent with Daniel Pisano of Bodegas Pisano. Daniel's grandfather emigrated to Uruguay from Italy's Liguria to produce his first vintage in 1920. The current third and fourth generations represent Uruguay's best-known brand, with the moustachioed Daniel himself already a legend.
The family's agronomic and winemaking philosophy is based on Sustainability: their 30 hectares of vines never seeing harmful treatment of any kind. The wines are just very good indeed, totally true to the grape and vineyard. For whites, the 2019 Torrontes is unique in the country, from vines smuggled in by Daniel from Argentina, the 2017 Pinot Noir showed a lifted, Burgundian black cherry fruit and the 2018 Tannat is all spice and depth. After a deliciously fruity sparkling 2017 Tannat, Daniel produced two 2011 Tannats from different vineyards, each with velvety smoothness, before ending on a 2002 Don César, named after his father, as youthful as it was memorable. Pisano exports all over the world and is distributed in the UK by Ellis of Richmond.
Our final visit was to Bodega Garzon (imported by Liberty Wines), a 250-hectare vineyard the vision of Argentinian businessman Alejandro Bulgheroni and his wife Bettina, which will be the subject of a later article.
AUTHOR
Wine writer and consultant Steven Spurrier, joined the wine trade in London in 1964 and later moved to Paris where he bought a wine shop in 1971, and then opened L'Académie du Vin, France's first private wine school in 1973. Spurrier organized the Paris Wine Tasting of 1976, which unexpectedly elevated the status of California wine and promoted the expansion of wine production in the New World.