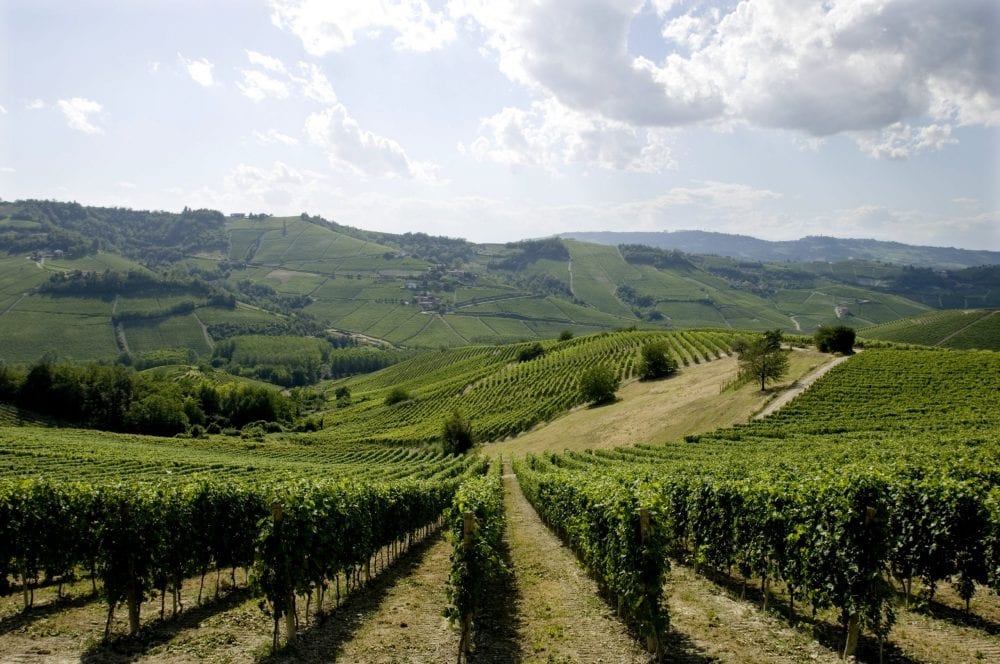 Vignarionda or Vigna Rionda, or Arionda, or Rotonda.
The shape of this cru explains the many variations of its name that have graced bottle labels over the decades: the Rionda Vineyard, is so-named because 'rionda' derives from the word rotonda, which means 'round'.
Vigna Rionda, as it was once mostly called, saw its name change definitively to the present-day Vignarionda (one word) with the advent of the official Menzioni Geografiche Aggiuntive (MGA) classification that lists all of today's Barolo and Barbaresco cru names. Name changes notwithstanding, it is clear that this specific vineyard has long enjoyed a hallowed reputation for the quality of its grapes, with individual growers and especially the negozianti (brokers and négociants) clamouring to buy grapes from it every vintage.
During the 1960s and '70s, when the Barolo 'single-vineyard' craze had not yet spread, and Barolo was the result of a skilful blend of the best grapes from numerous vineyards, the Vignarionda grapes were always the most expensive and the most sought after. Their reputation remains untarnished to this day. (The same cannot be said of other famous Barolo crus, such as Brunate and Cerequio, which, despite all the hype about the wines, struggle with climate change, and have become frankly too hot in parts to give truly memorable wines every year.) In fact, while gathering material for the upcoming book Barolo – Listening to Nebbiolo in the Langhe, Part I, co-written with Ian D'Agata and Lingzi He, we found that when asked to name the top five crus of Barolo in terms of quality and prestige, roughly 50 percent of all the Barolo producers included 'Vignarionda'. To be crystal-clear, no other Barolo cru garnered as many votes.
However, there can be no doubt that Vignarionda's fame and prestige reached its zenith with the wines made by Bruno Giacosa, whose Barolo Collina Rionda Riserva Speciale first, and later the Riserva (the wine became 'just' a Riserva when the Barolo production guidelines were changed in 1980, shortening the minimum required ageing process in oak and barrel) stunned the wine world when they arrived in our glasses. Many consider Giacosa Italy's greatest ever winemaker and it is only fair to recognize his great contribution to the fame and notoriety of the cru. Passionate, immensely precise, organized in ways few others were back in the 1960s, and blessed with an exceptional palate, Giacosa also held the advantage over his competitors of being an incredibly shrewd businessman – not to mention being one of the greatest connoisseurs of the Langhe vineyards (along with Beppe Colla and few others). At a time when single vineyard wines were not at all in vogue, Giacosa strongly believed that 'a great wine comes from a great vineyard', and began selecting the grapes of this cru to produce (between 1967 and 1993) some of Italy's best Barolos ever.
The Vignarionda covers roughly 10.2 hectares and is located in the municipality of Serralunga d'Alba. It faces from south to southwest in its central parcels, and west in its section facing Monforte d'Alba. It is mostly planted to Nebbiolo (at 86 percent of the total varieties planted, Nebbiolo is the most cultivated grape variety in the vineyard area). The cru climbs upwards from 250 to 360 meters above sea level. In the most recent Barolo vintage, 2016 (the vintage currently on the market), only nine wineries claimed the grapes to make Barolo from this MGA. Vignarionda's soil can be traced back to the Lequio Formation, the oldest soils of the Barolo area, originating in the Serravallian (mid-Miocene) period between 13 and 11 million years ago. It is a soil that is completely different from that of Barolo's La Morra commune, formed in the more recent Tortonian stage, which is known to give earlier developing, more perfumed wines when young, while Serralunga's require much more patience. The soil consists of alternating layers of gray silty-marl, rich in limestone, sand and sandstone, mostly pale in colour, though in some parts it can be characterized by a reddish-yellow colour due to the presence of calcium carbonate and/or iron. It is the limestone presence that really differentiates Vignarionda from many other Barolo vineyards: in fact, within the Barolo area, Vignarionda, at roughly 13 percent, boasts the highest limestone percentage in the entire Barolo zone. The soil's wealth of microelements such as potassium, boron, manganese and magnesium also contributes to the complexity of the region's wines.
The wines of Vignarionda are generally quite fleshy and round for Serralunga Barolos. They can be quite steely and tight when young, but Vignarionda's isolated position, well-sheltered from the northwest winds by the hills of Castelletto and Perno nearby, and its particularly sunny exposure, allows full ripening of Nebbiolo grapes in most vintages (and even more so in these days of climate change). Weather data from the past century also shows that the area has always been historically protected from violent storms and from summer hailstorms.
Vignarionda Barolos tend to be extremely long-lived, slow to mature – often a little 'difficult' in the first years of life. They are naturally concentrated, with depth, structure and a very refined texture; they develop magnificently over time and 40- to 50-year old wines can still drink splendidly.
And so it is that Viganarionda is a cru with its own story. It is not comparable with the other crus of Serralunga. Its Barolos, although very structured, are among the most harmonious and balanced of all, wines that express the cru's own style. Richly endowed with notes of sour red cherry and red roses when young, over time the Vignarionda Barolos develop aromas of dark fruit intertwined with anise and liquorice, with notes of undergrowth and white truffle.
My favourite Vignariondas:
Oddero Poderi e Cantine, Barolo Riserva Vignarionda
Massolino Azienda Agricola, Barolo Riserva Vignarionda
AUTHOR
Michele Longo is a Certified Sommelier and teacher. He writes for Barolo & Co magazine and is co-curator (with Ian d'Agata) of the Italy Section of Hugh Johnson's Pocket Wine Book. Michele's latest book (also with Ian D'Agata) is Barbaresco and Barolo: Listening to Nebbiolo and its Langhe Terroirs is published later this year.